Source: https://www.gov.sg/news/content/the-future-is-digital
Digital Technologies For Singapore
We all know that digital technologies are changing the way we live and work. Rapid digitalisation of industries is creating a digital economy that is redefining the rules of competitions.
Singapore government has pointed out that leveraging the digital economy is one of the key strategies to position Singapore well in the coming years! while still a lot people don't get the reason behind, let's look at why has the digital economy become so important?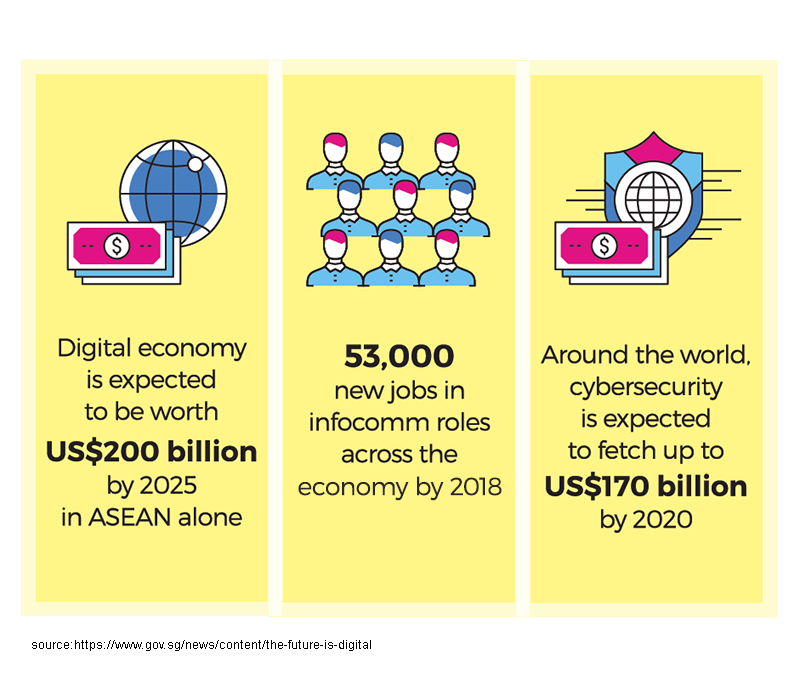 To understand the whole Digital landscape, below are the points you might need to remember as they are quite important:
What is digital economy?
Digital economy is the production and consumption of digital products, digital services and digital platforms..
Why Singapore?

Reliable IT infrastructure
High adoption of digital tech
Reputation of trustworthiness
Well-educated workforce
Existing capabilities in e-commerce, cybersecurity, analytics, etc
Close ties to key markets in ASEAN
Singapore is going to be a key player in the global digital economy. The key advantages of Singapore are its high security standards, location and strong reputation as a "trusted partner".
"If we can see data as a new resource compared to the traditional resources like water, energy, oil and so forth, then we may be able to create new competitive advantages for Singapore, leverage on data to operate new businesses, new jobs for Singaporeans," said CFE's Deputy Chairman Chan Chun Sing.
To find out how AllGo Digital Group can help you on the digital transformation, please contact us